Our Career Roadmap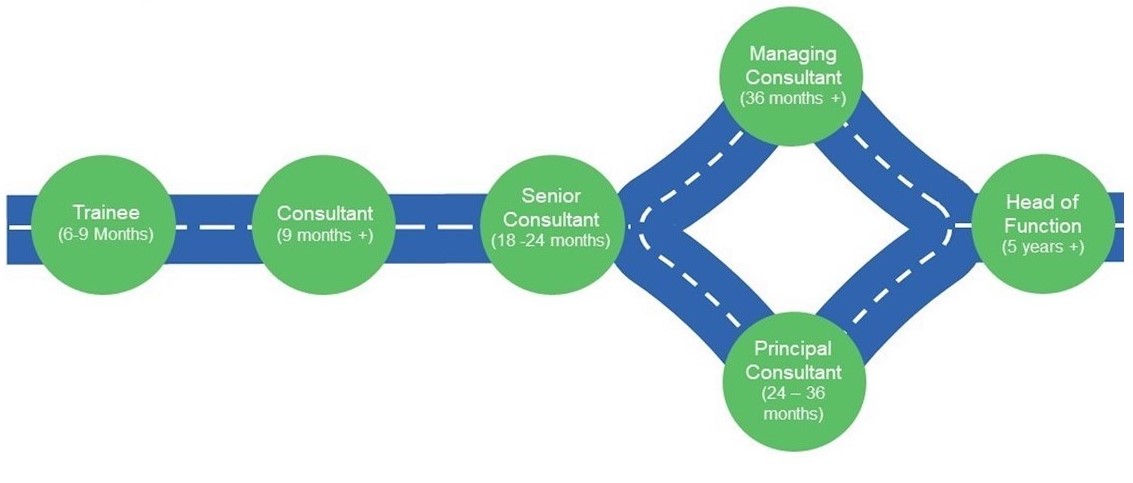 If you come in as a Trainee, we see you graduating that stage within 6-9 months and moving into a Consultant role. Once this step is taken, your targets will go up and expectations but the training and development plan doesn't stop there! We will support you throughout your whole journey with Optima.
We see the next promotion coming within 18-24 months where you would step up to a Senior Consultant role, which would see your responsibilities increase. Then when your next promotion arrives, you will get a choice:
Principal Consultant - 24-36 Months. You'd still be very much hands-on as a Consultant and would still be billing in a 360 role. Your targets would be high but the earning potential should you hit them would be incredible.
Managing Consultant - 36 months+. You'd start to build your own team and wouldn't be quite as hands-on. You might manage some key accounts while training and developing your team but your targets would revolve around your team's performance and how well they're doing.
We've done this because we appreciate that not everybody wants to become a Manager and would much prefer to carry on consulting and billing.
In 5 years, it's likely that your next step would be Head of Function. Optima is pretty unique in that we have different steps and stages for people at all levels. Once we've grown and your performance has improved year on year, the amount of Directors would increase which would then see openings as a 'Head Of' each function, whether it be Sales, Marketing, Service etc.
So, could you be our next star performer?

Do you want the follow our roadmap and get yourself to where you want to be?

We're always keen to speak with people who aspire to become an important part of Optima's journey. If you would like to know more about us and what we can offer you, please fill in the details below and Danielle will be in touch.